Picture Hanging
Floating Shelves
TV & Soundbar Hangers
Anti-Tip Kits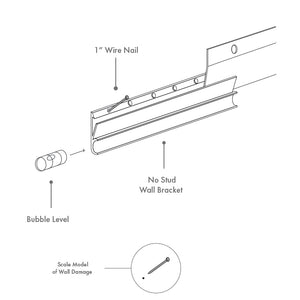 No Stud Technology
Say Goodbye To Wall Studs.
Hangman's Awarding winning No Stud Technology is an innovative and easy way for a user to mount mirrors, pictures, and wall decor against a wall with out the need for studs.
How We Can Help You
Hangman Products has a solution for every hanging challenge in your home, home office, workshop, gallery, museum, man cave, or she-shed! Whether you own or rent, live in a house, an apartment, or an RV, our products can help you decorate like a pro. We put our decades of design and manufacturing experience into each hanging solution to make them simple and safe, so even beginning DIYers can mount the heaviest mirror, picture or TV in minutes! We also support pro DIYers, contractors, artists, gallery owners, framers, and manufacturers with our quality standards and heavy-duty applications. Our products are designed, patented, and manufactured in the USA using US aircraft-grade aluminum and steel, and we maintain the highest quality control over every product.
Our Solutions Include:
No Stud Technology to hang mirrors, pictures, TVs, speakers, sound bars, streaming devices and floating shelves with minimal or no wall damage for renters in houses, apartments or dorms, or anyone with freshly painted walls.
Heavy Duty cleat-style hangers for mirrors, heavy frames, and headboards that hang items 50, 100, 200, 300 or even 400 lbs..
AV Solutions and Mounts for TVs, speakers, streaming devices and sound bars for all surfaces including drywall, plaster, paneling, concrete, brick, including TV mounts for over fireplaces.
Anti-tip child safety devices for furniture and TVs that mount to the wall and to the furniture, including dressers, curios, cabinets, and bookshelves. We proudly make the strongest tipover restraint on the market with all steel components.
Home office organization including note and paper holders, floating shelves, and speaker hangers.
Garage and industrial solutions including garage door pulls, slatwall tracks, cabinet and door pulls, shelf stiffeners and safety edges.
Subscribe to our newsletter
Receive 10% off for signing up. Promotions, new products and sales. Directly to your inbox.