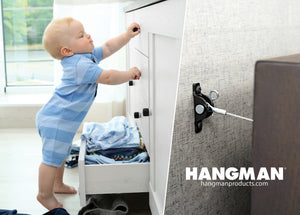 Hangman Adds All Surface Installation to Best Selling Furniture Anti Tip Kit for Furniture Manufacturers
Hangman has added an all-surface installation to its best-selling all-steel tip-over restraint, which previously could only install directly into studs.
Responding to requests from furniture manufacturers, the latest kit is designed to work in all surfaces: wood studs, metal studs, hollow walls and hard walls. The new version will increase the probability that the consumer will be able to make a safe installation on any surface.
Hangman's Anti Tip Kit has appeared in the Consumer Product Safety Commission's Anchor It campaign and is the specified tip-over restraint for an increasing number of retailers and manufacturers. According to the CPSC, furniture tip-overs cause more than 30 deaths a year and over 30,000 injuries.
Hangman produces product in its US facility and in China to efficiently ship to Asian manufacturers. This product is currently only available to manufacturers, not yet directly to consumers.
The Hangman Anti Tip Kit (TK400-AS and TK400L) meets ASTM F3096-14, "Standard Performance Specification for Tipover Restraint(s) Used with Clothing Storage Unit(s)," Section 4.
About Hangman Products 
Since 1999, HANGMAN Products has dedicated itself to creating innovative solutions for securing items to walls, from mirrors to TVs to furniture. Our flagship product, the Heavy Duty Mirror and Picture Hanger, was designed to hang heavy items simply, safely and level every time. That product has sold more than 25 million units worldwide. Today, the HANGMAN product line has received international design recognition and is available in the world's biggest retailers, as well as at http://www.hangmanproducts.com.
---