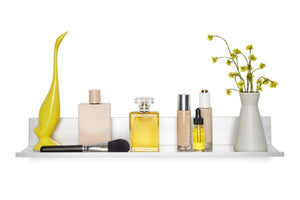 The Floating Shelf You Would Have Loved at the Inspired Home Show
SIMI VALLEY, CALIF. (PRWEB) MARCH 13, 2020
The Inspired Home Show was canceled for the safety of all, but that's no reason to miss out on the season's hottest products!
One to love: Global Innovations Award Finalist: No Stud Floating Shelf by Hangman Products. This sleek and modern shelf installs anywhere in the home in minutes with no drilling, no drooping, no big holes in the wall, no need even for studs! And the only tool needed? A hammer. Check out the video and detailed info on the Hangman page at Housewares Connect 365.
HANGMAN's award-winning No Stud Technology™ is an innovative and simple way to mount a wide range of products, including the best-selling No Stud TV Hanger®, No Stud Apartment Hangers, No Stud Smart Shelf® for streaming devices and No Stud Sound Bar Hangers and Shelves. The patented technology uses aircraft-grade aluminum brackets and small nails to safely and securely mount items to the wall. These hangers are virtually damage-free, leaving only tiny nail holes upon removal.
The No Stud Floating Shelf is made of solid aluminum and comes in three finishes - white, silver and black. Durable surfaces are washable, making them ideal for bathrooms, kitchens, office or utility rooms, while the sleek design complements any living space.
Once installed, the No Stud Floating Shelf ™ can hold between 30-60 pounds (18"-48") and will not sag! Don't worry about the studs, just pick your spot and hang it!
About Hangman Products
Since 1999, HANGMAN Products has dedicated itself to solving one of life's most annoying problems: hanging things. Our flagship product, the Heavy Duty Mirror and Picture Hanger, was designed to hang heavy items simply, safely and level every time. That product has sold more than 20 million units worldwide. Today, the HANGMAN product line has received international design recognition and is available in the world's biggest retailers, as well as at http://www.hangmanproducts.com.
---